20th Anniversary of a Photograph
Take a break from your software to read this: Today (February 12, 2010) marks the 20th anniversary of a remarkably simple, unimportant, yet incredibly special and sentimental event. A perspective that few consider in their daily lives. I sometimes get caught in the daily grind, worry about things that … maybe aren't so important. There are bigger ideas out there, and I find a small sense of peace when I think about our lives in the context of something so vast and unknown. Take a few minutes to read the entire
article on NPR
.
"Look again at that dot. That's here. That's home. That's us. On it everyone you love, everyone you know, everyone you ever heard of, every human being who ever was, lived out their lives. The aggregate of our joy and suffering, thousands of confident religions, ideologies, and economic doctrines, every hunter and forager, every hero and coward, every creator and destroyer of civilization, every king and peasant, every young couple in love, every mother and father, hopeful child, inventor and explorer, every teacher of morals, every corrupt politician, every 'superstar,' every 'supreme leader,' every saint and sinner in the history of our species lived there — on a mote of dust suspended in a sunbeam." ~

Carl Sagan
Thank you, Carl Sagan, for such a clear and unburdened view of our world.
---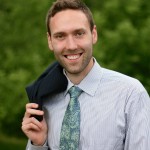 About the author:
Lincoln Baxter, III is the Chief Editor of Red Hat Developers, and has worked extensively on JBoss open-source projects; most notably as creator & project lead of JBoss Forge, author of Errai UI, and Project Lead of JBoss Windup. This content represents his personal opinions, not those of his employer.
He is a founder of OCPsoft, the author of PrettyFaces and Rewrite, the leading URL-rewriting extensions for Servlet, Java EE, and Java web frameworks; he is also the author of PrettyTime, social-style date and timestamp formatting for Java. When he is not swimming, running, or playing competitive Magic: The Gathering, Lincoln is focused on promoting open-source software and making technology more accessible for everyone.
Posted in Uncategorized