Close your eyes, take a deep breath, then repeat after me: "Trying to test any Enterprise application by manually executing a test suite is just preposterous, and an application with any complexity at all quickly becomes too burdensome to test without automation." Now repeat it a hundred times – still think you can live without automation? In
part one
we set up our tools,
part two
we did project configuration, and in
part three
we ended with a fully functional application; however, now that you've become familiar with the Red Hat tools and Facebook API, it's time we get to a topic we ideally should have started with in the first place:
TESTING
!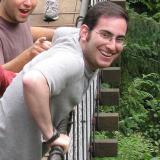 About the author:
Craig Schwarzwald is a Senior Mobile Software Engineer at a large financial institution, working on Facebook and Mobile applications. Craig also contributes to several open-source projects in his spare time; most notably writing guides and tutorials for Arquillian, a Unit and Integration testing framework. This blog represents his personal thoughts and perspectives, not necessarily those of his employer.